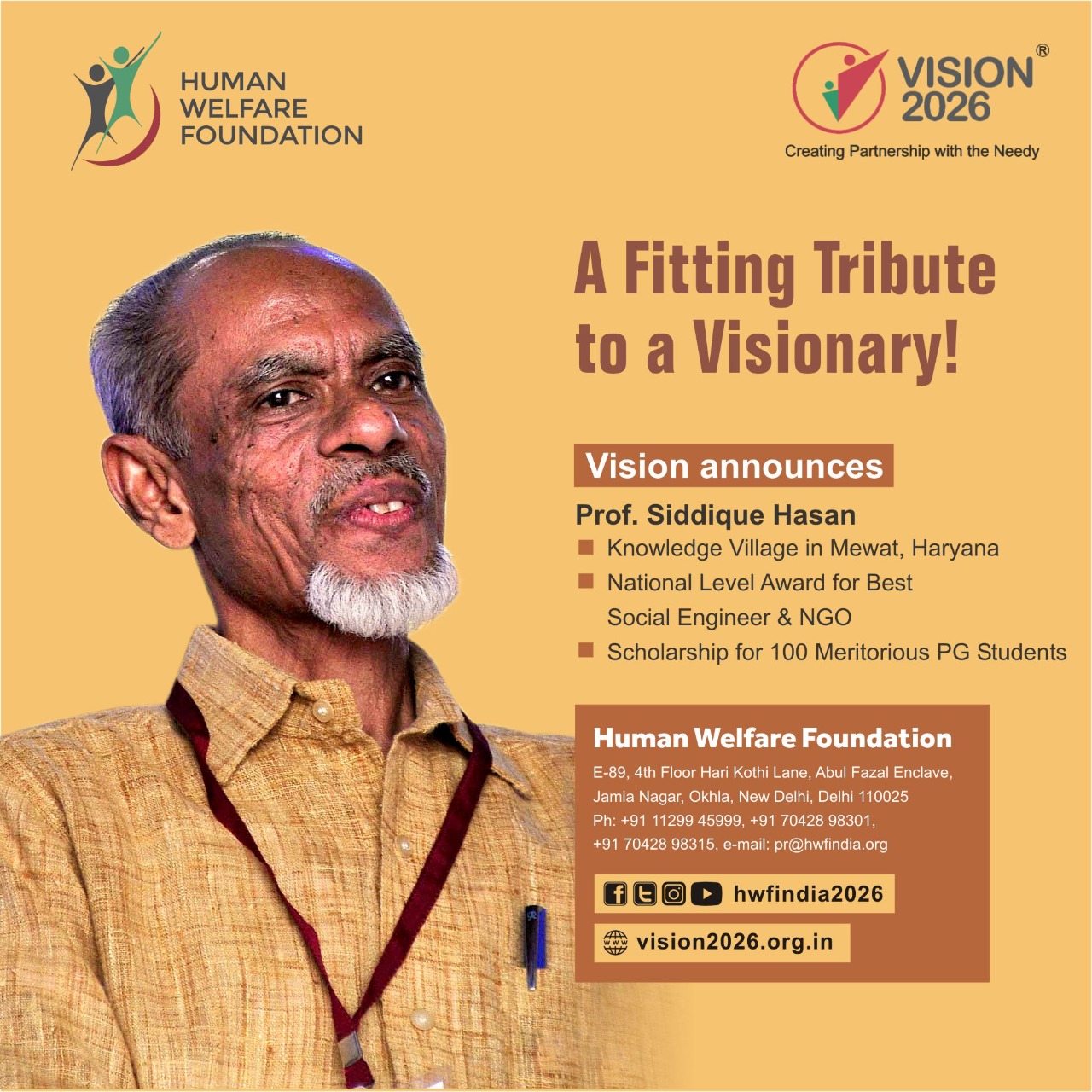 Human Welfare Foundation (HWF) in the recently held AGM unanimously decided to constitute awards, scholarship, and a knowledge village in memory of Prof K A Siddique Hasan, the Chief Architect and visionary behind Vision 2026.
Prof Siddique Hasan was a noted Islamic scholar, inspiring leader, author, and social activist and highly regarded among the wider social and political leadership of the country. Prof. Hassan's contribution to society at large consists in pioneering the socio-educational empowerment initiatives in North and Eastern India where the minorities lead a life of economic and educational deprivation. The movement he launched in this regard – Vision 2016 through the Human Welfare Foundation formed the backbone of institutional support for the drive.
Prof Siddique Hassan Award for best social engineer & NGO in the country aims at recognizing and appreciating individuals and organizations in the country committed to social service and empowerment. Also, this will help the Foundation network with like-minded NGOs and social engineers and work in collaboration.
Prof Siddique Hassan Scholarship will be given to 100 meritorious PG students from backward communities to pursue their higher studies in premier institutes of the country. Students with potential leadership qualities from financially backward families and most marginalized communities will be selected and provided leadership training to mold them as young leaders capable to lead their respective communities.
Human Welfare Foundation will name the upcoming educational campus in Mewat, Haryana as Prof. Siddique Hassan Knowledge Village. Mewat is the most backward district in the country, which has been selected as one of the aspirational districts for transformation by NITI Aayog. The comprehensive campus will be a hub of education and training comprising of boys and girls public school, paramedical college, women's college, ITI, special school, hospital, library, and auditorium.